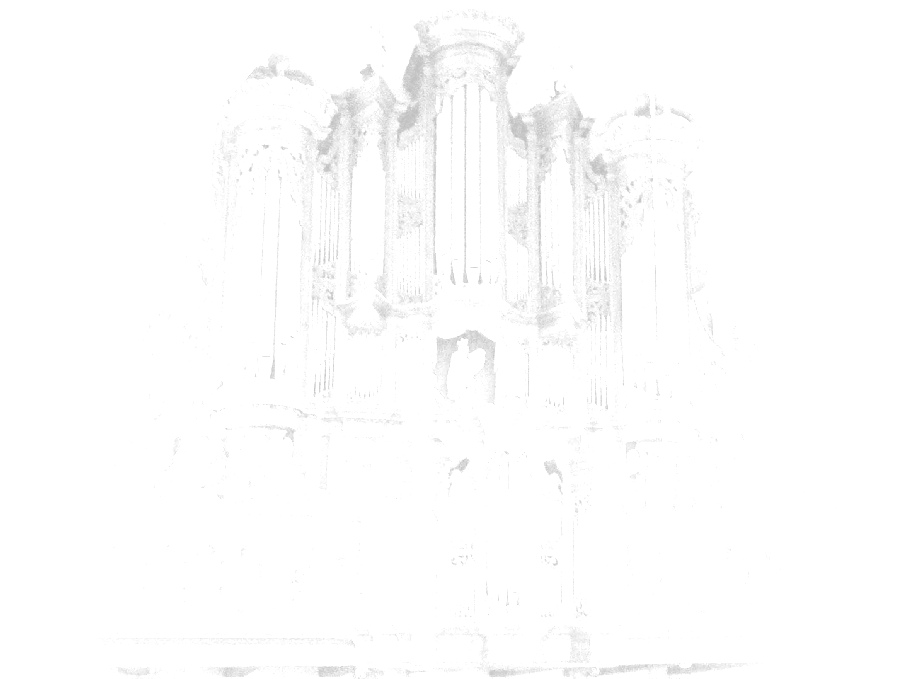 This is cambridgeorganists.org Designed and produced by Stephen Taylor for the Cambridge & District Organists' Association

Michael Whitehall writes:
Old keyboards could be set up so that pressing the C key could generate a C or an F. Early manuscripts refer to "voice" or "choir" pitch for this transposing system. The principals operated at 5' pitch and were often doubled (in the sense of "duplicated") - i.e. there were 2 Principals of 5 foot pitch not a single Principal of 10' pitch. Fifteenths could well be doubled also. The 1519 contract at All Hallows, Barking specifies "Dowble pryncipalles thorowe out". Compass "Doble Cffaut wt xxvij pleyn Keyes xix Musiks" (Holy Trinity, Coventry 1526) can be decoded as a fully chromatic 46 note keyboard from C to a2 if we think of "Musiks"in terms of black notes on a modern keyboard. Large instruments such as that at Barking might have "Bassys called Diapason to the same conteyning of x feet or more" sounding an octave below the doubled Principal ranks.
The vocal pitch, whose lowest note consisted of a pipe "v foote or so" long, was referred to as the Principal pitch of the organ. Any other pitches were related to this norm – the term Diapason was reserved for sub-octave pitch. It was possible that organs with two manuals may well have one at organ pitch and the other at vocal pitch.
Philip Norman dealt in some detail with the Early English Organ Project instruments based on old soundboards discovered ar Wetheringsett (c 1520) and Wingfield (c 1500) pointing out the use of doubled ranks implied by the positioning of pipe holes.
27th March 2021 – "Two Marquesses, Three Victorian Gentlemen-Clerics and One Organbuilder" - the Organ at St. Mary Magdalene Church, Castle Ashby. Northamptonshire is unknown territory to me, so I was particularly interested to hear Richard Tapp, President of the Northampton and District Association, give 19 of us a presentation about the John Nicholson organ in St Mary Magdalene Church, Castle Ashby. I found several resonances between this instrument and the fine Thomas Nicholson organ in one of the Lincolnshire churches where I was parish priest. In both cases the inspiration for major restorations of a medieval church came from the families who were Lords of the Manor and provided one of the younger sons as parish priest, in the case of Castle Ashby the Compton family, Marquesses of Northampton. Following the major restoration of the church, the Nicholson organ was installed in 1872, to a specification by Sir Frederick Gore Ouseley and in a sumptuous case designed by the Revd Sir John Sutton, both friends of the Compton family. What it is to have connections!
From Richard's account, this is an organ well worth seeing, playing and hearing. It was a pity that the technology prevented our hearing any recordings
but hopefully that may inspire a future Association visit to what would appear to be a very fine organ indeed. I'm itching to go. Our thanks to Richard for inspiring us.
Peter Godden